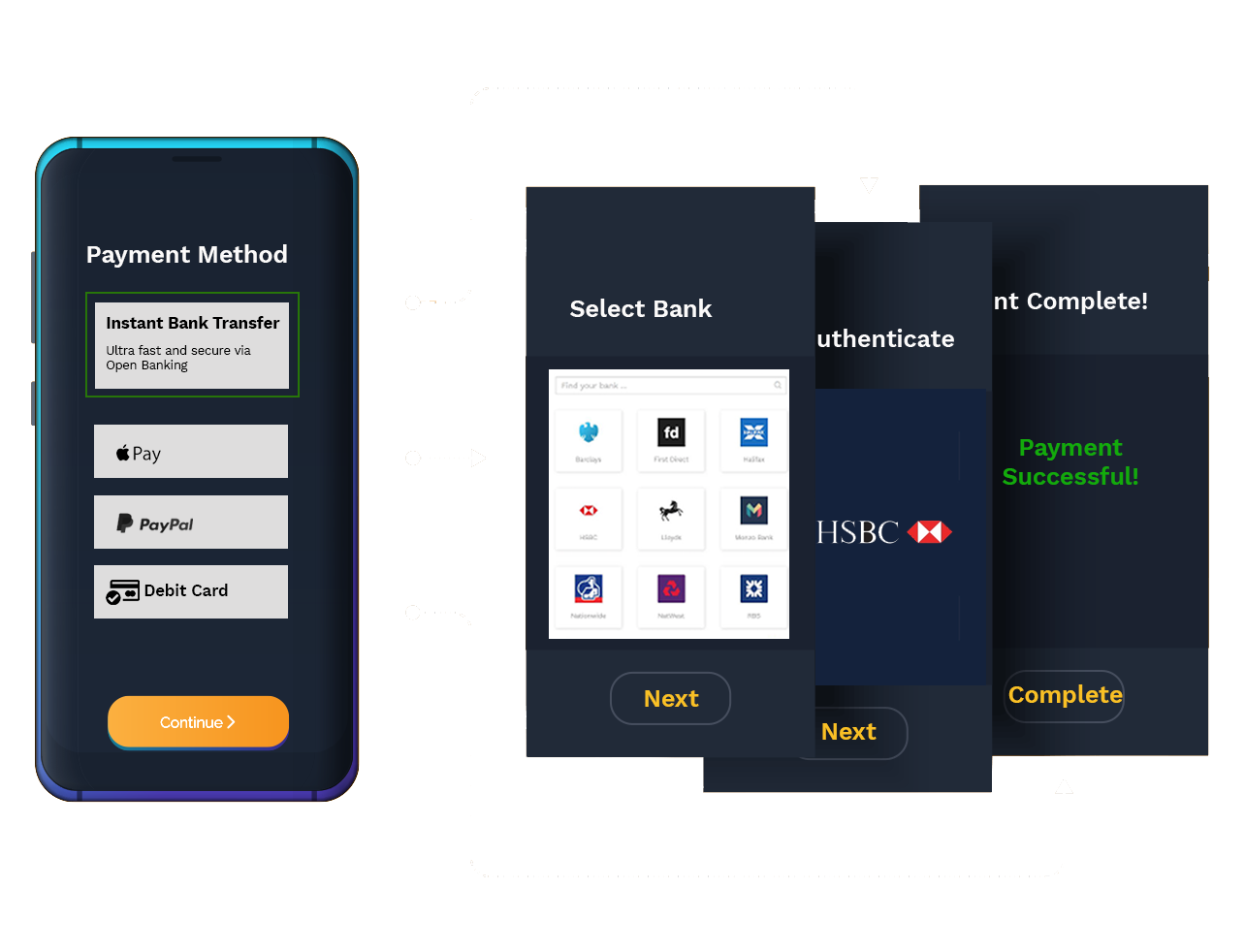 Nuapay Instant Bank Transfer is an open banking based payment solution which gives you a new fast and secure way for your customers to pay, top-up or load their account. They pay directly from their bank account simply by authorising the payment in their banking app. It's simple and easy for you and your customers.
Why Use Nuapay?
Our API based payment method, provides a complete payment solution that addresses all of your needs, whether you be a PSP, merchant, or a payer. Nuapay's one-stop solution comes with a range of benefits, including:
Seamless
Customers pay by Instant Bank Transfer, simply by authorising the payment in their mobile banking app with the biometrics on their phone. Hassle free with no card details, passwords, or any other information to enter. We take care of this for them. It is that simple.
Integrated
Develop integrated customer journeys within your app and website, with the look and feel of your brand. Don't let others dictate how your payments should look – take control and give your customers the upgraded experience with Nuapay.
Fast
Money in seconds, not days. Our Instant Bank Transfer enables payments to reach your account in as little as 6 seconds. Take advantage of our instant webhook notifications when funds arrive, to credit money to your customers instantly and confidently let them invest, spend or remit money immediately.
Hassle free
Our one-stop solution initiates and collects all your transactions, providing you with a completely reconciled end to end service. We do all the heavy lifting, so rest easy with no need to manually match transactions or reconcile balances in different accounts. You have full control and visibility of your money every step of the way.
Simple pay-outs
Need to make a payment back to your customer? Our service lets you send money directly back to the original payer's account instantly. No need to collect details from them as we store those securely in our platform, so delight your customers with fast disbursements.
Save money
Typically our financial services clients will save around 75% in transaction costs compared to their customers paying via a debit card. Plus, you get all the other benefits of bank transfers, with no fraud, no chargebacks, and reduced back-off reconciliation costs.
Nuapay is licenced by the FCA as an Authorised Payment Institution, including permission to operate as a Payment Initiation Service Provider (PISP), enabling us to power this full set of payment functionality
Studies reveal that consumers are frustrated with the user experience when making card payments online. In fact 54% of consumers are willing to pay by open banking solutions. Learn more about what consumers want from a payment solution.
Developed by K Wearables, K Ring is the world's first contactless payment ring, Learn more about how they are using Open Banking to enable customers to top up their prepaid wallet.
Choosing the right Open Banking provider is becoming quite the challenge, especially with many new providers stepping up. So to make things simpler we have put together this guide to provide a clearer understanding of the process