Fast. Secure.
Cost Effective.
Accept payments via bank transfer from your customers today, and harness the revolution in Open Banking.
Open Banking is the new way for merchants to accept payments.
Customers pay via bank transfer, sending funds directly from their bank account to the merchant.  It is fast and secure, all with no cards and no data entry.
And by using Nuapay's Open Banking solution, merchants also get all the features expected of a modern payment method.  With Nuapay, refunds, recurring payments, instalment plans, and full reconciliations, are already part of our solution.

Fast
Fast and simple customer checkout with no card details to enter
Merchant receives money (and sends refunds) in real-time
Set up instalment plans or recurring payments with one extra click
Real-time webhooks to confirm payment status

Secure
Fully SCA compliant payment method
Consumers connect securely to their internet / mobile banking to make a payment
Fraud free by design
No credentials or account details disclosed to merchant
No PCI DSS requirements

Cost Effective
One, simple, low-cost fee
No charges on failed or declined transactions
No chargebacks, minimising back office headaches
Full reconciliation files to support easy servicing
Simple API integration
How does Open Banking work?
Open Banking is a new way to pay, enabled by the European PSD2 regulations.  Using Open Banking, customers initiate a payment to a merchant or corporate using their mobile banking App or online banking webportal, in exactly the same way that they initiate a bank transfer.  Funds are then transferred to the merchant immediately using the real-time banking rails.
Nuapay is a pioneer and industry leader in Open Banking payments.  Our API based payment method, provides a complete payment solution that addresses all of your needs, whether you be a PSP, merchant, or a payer.  Our solution provides: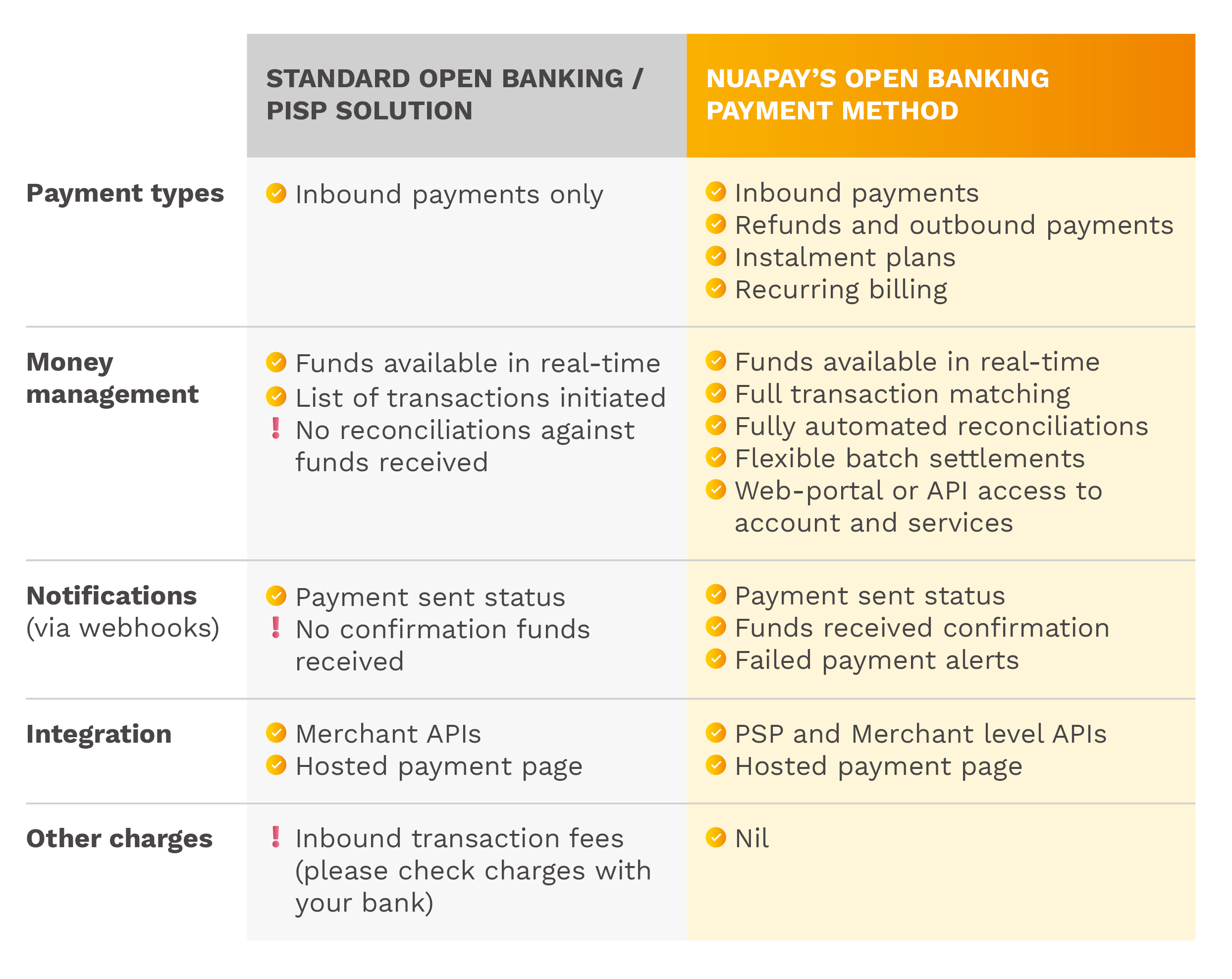 Nuapay is licenced by the FCA as an Authorised Payment Institution, including permission to operate as a Payment Initiation Service Provider (PISP), enabling us to power this full set of payment functionality
Open Banking World Series Report
See the benefits of Open Banking solutions and why merchants are starting to adopt these payment methods
Future of Open Banking with Worldpay
Find out more about how Open Banking is changing payments from one of the leaders in the payments industry, Worldpay
Integration
guides:
API docs
See how easy it is to connect to our APIs to start accepting payments direct from your customers' bank accounts today